SaferPak Win UK E-commerce Award

SaferPak recently scooped the prestigious "Highly Commended" spot in the 2004 e-commerce awards run by the Department of Trade and Industry (DTI), and by InterForum.

Sponsored nationally by the Royal Bank of Scotland Group and national media sponsor The Sunday Times Enterprise Network, these awards have been designed to recognise and reward those organisations that have demonstrated excellence through the use of the Internet and other Information & Communications Technologies. The Awards are open to UK businesses (limited or otherwise), public bodies, registered charities and not-for-profit organisations with fewer than 250 employees based in England, Wales, Scotland, Northern Ireland or the Isle of Man.

Simon Timperley, SaferPak's Managing Director said "We are absolutely delighted that SaferPak has been recognised as one of the leading e-business players in the UK today. Our development over the past 18 months has been incredible, matched only by the hard work and effort put in by all the members of SaferPak's team. A big thank you to everyone involved".

For more information please call SaferPak on +44(0) 161 287 9880 or e-mail info@saferpak.com.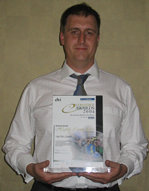 SaferPak 'Highly Commended'